In 2021, we came together with the Nesquik Turkey team to bring sustainable habits into the daily life of children. The Environmental Inventors Project was created out of a desire to create a system that would reveal children's creative skills in the subject of the environment.
What is The Environmental Inventors Project?
We support children in learning green skills through play and encourage them to design their own environmental inventions using their creative powers through the Environmental Inventors Project, which we developed in collaboration with Nesquik. In other words, we bring sustainability to the playground.
We recycled Nesquik packaging and turned it into Toyi pieces in the first step of the Environmental Inventors Project. Then, through Environmental Inventors' Workshops, we introduce these play kits to schools. Children have designed their own inventions for the environment using their creative skills in workshops where we have met with 3000 children to date.
Why Do We Care About Sustainability Through Play?
Play is where children learn about life, socialize, and acquire production and consumption habits. In addition, studies show that children who learn green skills like producing without consuming, upcycling, and waste management at a young age are more likely to develop these habits later in their life. When we talk about children's daily lives, we come across play. That's why it's critical for kids to be able to practice green skills in a playful way in their daily life. This is why we believe it is critical to create content that is playful, participatory, and fun to empower children for climate change, environmental issues, and sustainability habits.
We Transform Nesquik Packaging Into Toys: Quicky Ears!
When we collaborated with Nesquik to bring sustainability to children's lives in a playful way, we considered how we could combine the concepts of recycling and upcycling in a single project. We began R&D studies at this point to convert Nesquik packaging waste into Toyi parts. Our design team created a new piece to match the Toyi kits. And here comes the iconic character of Nesquik, Quicky's Ears, created by recycling Nesquik packaging waste!
Why Do We Care About Circular Design?
It is possible to see plastic in almost every sector related to children. In 2014, in the United Nations Environment Program "Valuing Plastic" report, the toy industry was cited as one of the industries that use plastic the most. Plastic is a long-lasting, washable, disposable, and easy-to-find material, which explains why plastic is used in 90 percent of toys and why plastic toys have been lining toy shelves for the past 50 years. The toy industry has to grow into a more inclusive, equitable, and regenerative ecosystem and make children's daily lives more playful. Therefore we care about applying circular design principles both in the production stage and while providing play experiences to children.
The Environmental Inventors Project at Schools!
We sent Toyi Play Kits made of recyclable plastics and Nesquik Milks to schools in the project's second phase. We organized train the trainers for teachers. At these workshops, we explored how we can reveal children's creative self-confidence for climate. During the training, the teachers did not forget to design their own environmental inventions. Following their training, the teachers hosted Environmental Inventors Workshops in their classrooms, which encourage creativity and active participation without the use of instruction. In these workshops, children first discussed environmental issues with their friends and teachers, then used Toyi Play kits and Nesquik packaging to create their own solutions to environmental problems, which they then shared with their friends.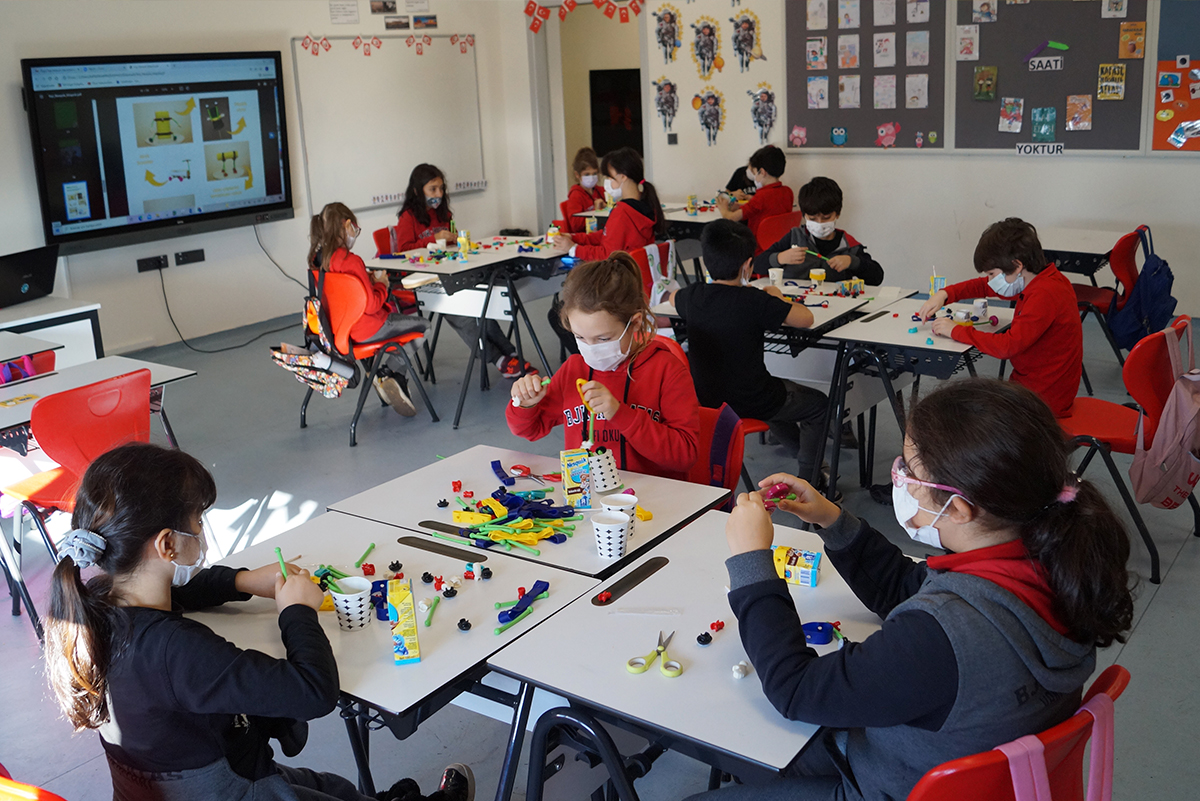 Environmental Inventors Inspire Adults With Their Creative Inventions!
We will continue to organize both physical and virtual activities to encourage children to create their own innovative solutions to environmental issues. On June 5, World Environment Day, we came together with over 1500 children and their parents at the Creative Children's Festival. Children at the Environmental Inventors' Workshop used Toyi pieces to create playful inventions out of Nesquik packaging, egg boxes, water bottles, towel paper rolls, twigs, and cones. We were all inspired by children's environmental ingenuity. Some created a solar-powered robot, some created a ship to clean the ocean, and another child created a vehicle that cleans up space junk.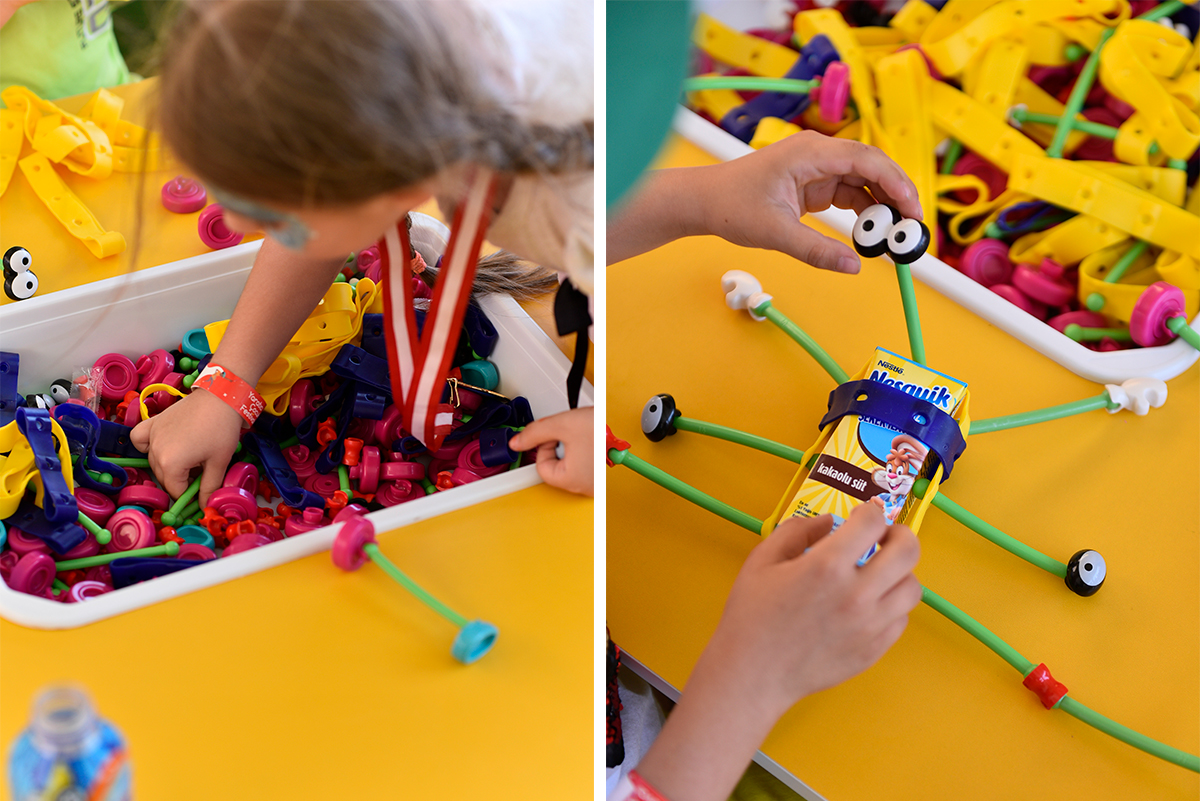 Why Do We Care About Active Participation of Children in Climate Education?
We believe that the climate crisis, the effects of which will be felt more acutely by upcoming generations, is also a child rights crisis. The dramatic consequences of the climate crisis will have a significant impact on today's children. In this context, it is not surprising to see that climate activists are also children. As a social enterprise that designs with children and develops products for them, we are also aware of the need to act more responsibly. For this reason, we have designed the Environmental Inventors' Workshops in such a way to ensure the active participation of children. In these workshops, adults do not teach children what to do in a didactic way, we reveal children's creative and critical thinking skills, and aim to make children's inventions visible.
Join the Environmental Inventors Movement!
The Environmental Inventors Project continues with physical and online activities to show children's innovative abilities in the field of environmental science. You can contact the project team by filling out the application form on the project website if you wish to host an Environmental Inventors' Workshop at your school. For the most up-to-date information about the project, sign up for the email list or follow us on social media. Please don't forget to share your own environmental inventions by tagging @playtoyi and @nesquik_turkiye using the hashtag #environmentalinventors.