As Toyi, we try to make an assessment at the end of every year to see what we have achieved and what we learnt. This year, we wanted to create a document in which we could focus on the areas we want to improve, rather than preparing a report listing only the moments we are proud of.
You will see the unforgettable moments of 2021 in the first part of this evaltuation document, and in the second part you will read about the development areas that emerged as a result of face-to-face interviews with different stakeholder groups, survey evaluations and observations.
Hereby, we are happy to say that we hope to achieve a more playful, sustainable and fair toy industry with you all.
HIGHLIGHTS OF 2021
We reached up to 225,000 kids from 16 different countries!
Toyi continues to travel to new continents and meet new playmates every day. As of 2021, Toyi reached up to a total number of 225,000 kids through 16 distributors in 16 countries. Toyi is now reaching new parents, teachers and children in Germany, Austria, Australia, Belgium, United Arab Emirates, Estonia, France, Netherlands, Italy, Switzerland, Qatar, Poland, Russia, Singapore, Chile, Taiwan.
We won the iF DESIGN AWARD!
Our eco-friendly creative building kit Toyi won the iF DESIGN AWARD 2021 in the discipline "Product". Toyi was first conceived by our co-founder Elif Atmaca as a solution to allow kids who live in disadvantaged areas to transform their surroundings through play, and it had won the iF DESIGN Student Award in 2015. With Elif's passion for sustainability and design for child's rights, Toyi was then developed for all children whose creativity is malnourished in our times and has been awarded with the iF DESIGN AWARD 2021. We are very much proud that Toyi became the first product receiving the award in the toy category from Turkey.
We Are Now Producing Toyi Kits from Recyclable Materials!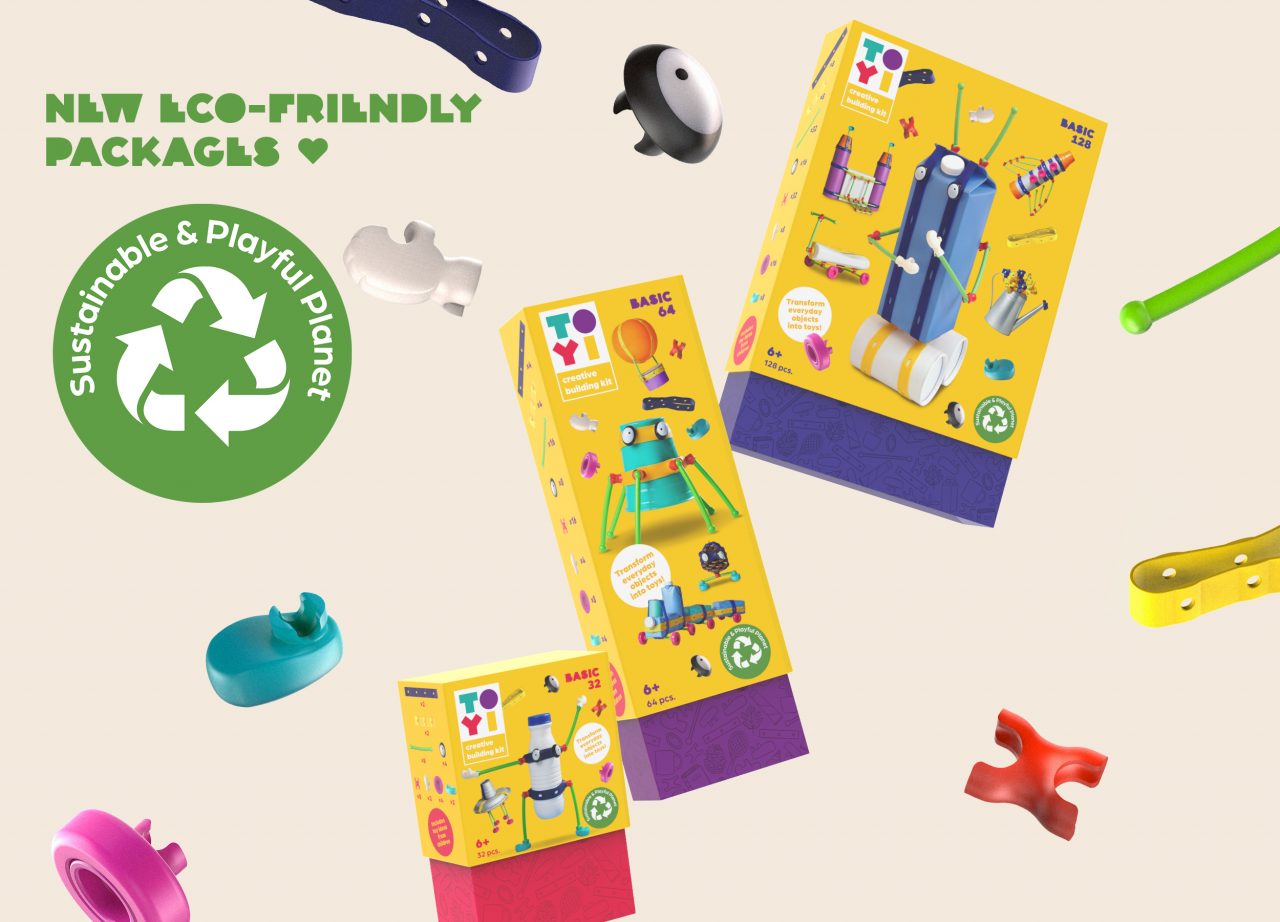 We started our recyclable materials R&D studies started in 2019 and resulted in 2021. Now Toyi parts are produced with recycled plastic! At the same time, we started using recycled paper in all Toyi boxes, brochures, display products and parcels. Thanks to these works we have done in the production process, we prevented 16.200 kg CO2 emission through using 6 tons of recycled plastic. You can visit our Store page to review our renewed eco-friendly play kits.
We Became a Partner of 'Good Practices in Education' Conference Organized by Education Reform Initiative!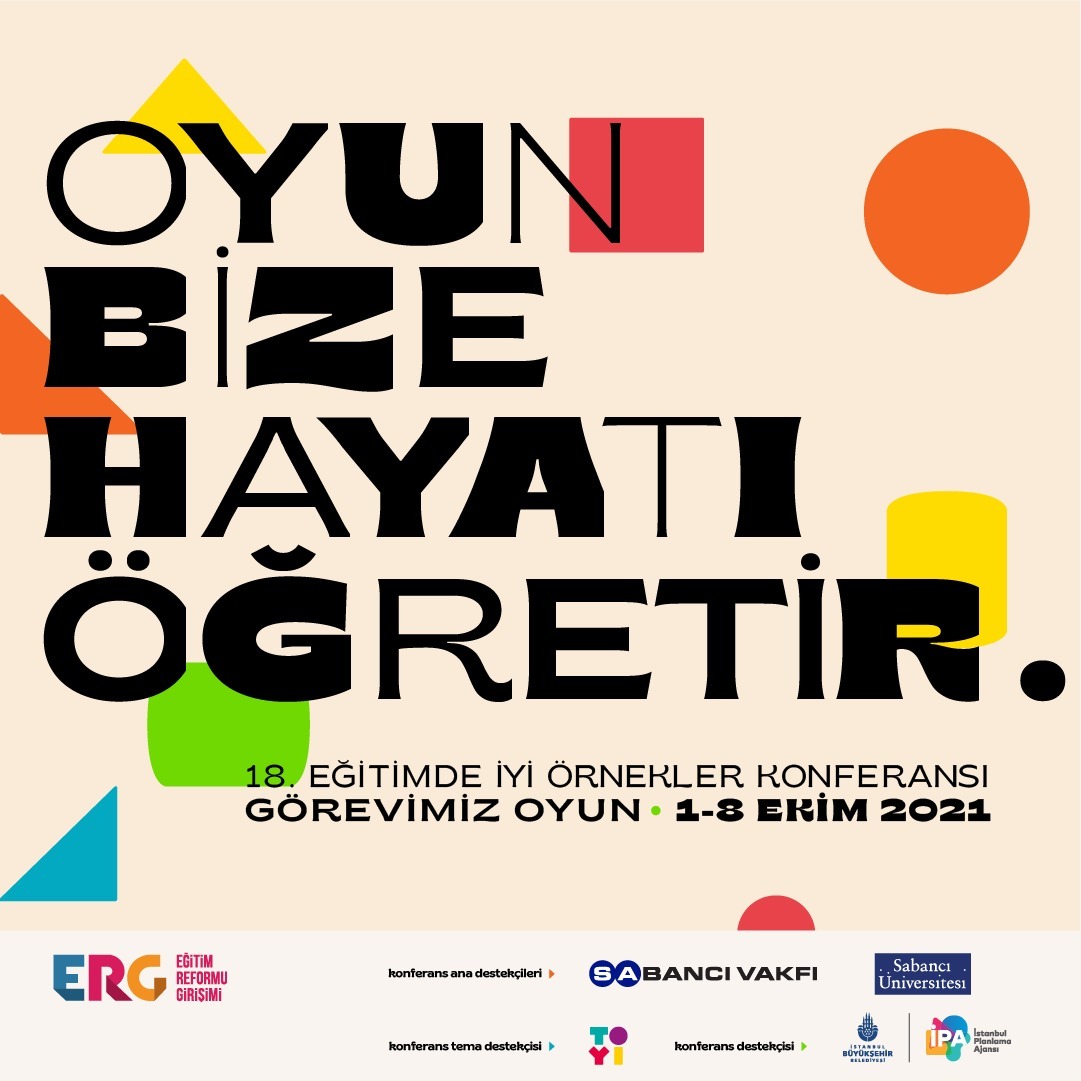 We became the 2021 theme supporter of the Good Practices in Education Conference organized by the Education Reform Initiative with the support of the Sabancı Foundation and Sabancı University since 2004. We came together with 1200 teachers and education advocates at 2 workshops, 2 panels and the closing event we organized on October 1-8, 2021. We are very proud to be able to keep children's right to play on agenda in times of crisis and to support the spread of free play in education thanks to this conference. For more information on the content of the conference you can check the Education Reform Initiative's Youtube account.
We Supported Children's Green Skills with the 'Environmental Inventors' Project in Partnership with Nesquik!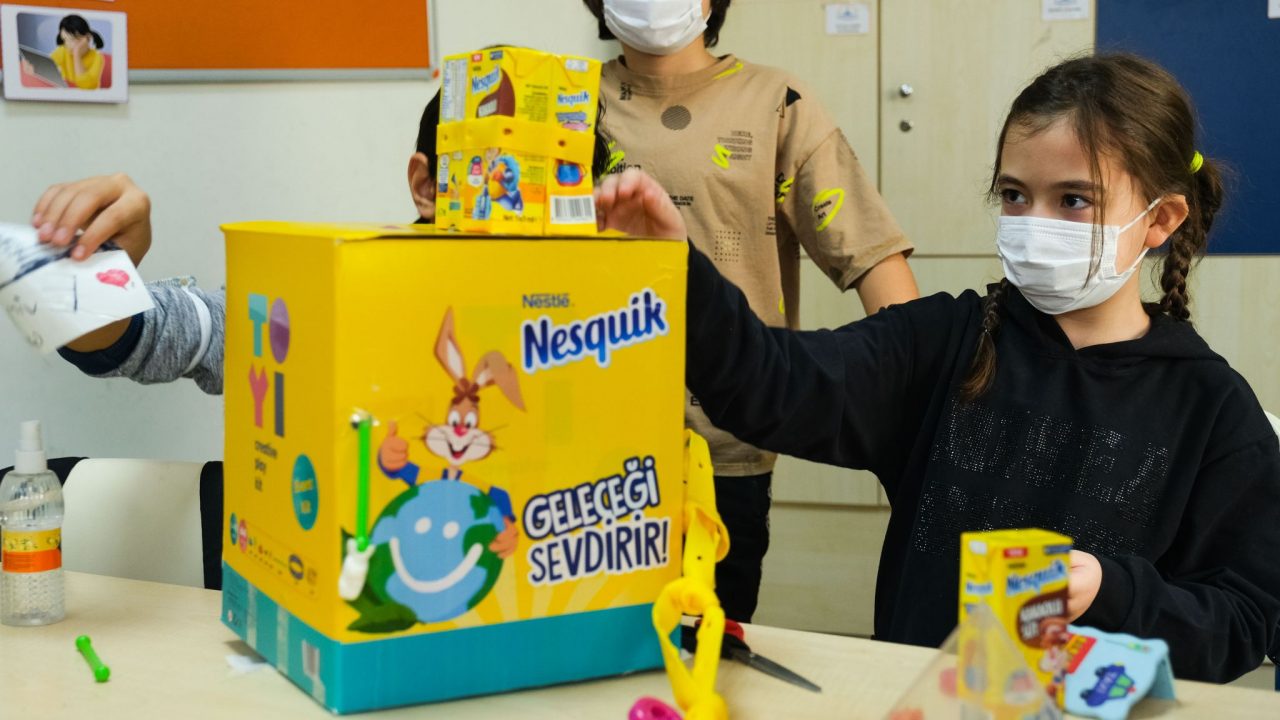 In 2021, we implemented the Environmental Inventors Project where we aim to design fun play experiences that will improve primary school students' upcycling skills, to help children make decisions for a more sustainable and livable world, and to spread the culture of sustainable living in society. Within the scope of the project, we contributed to the development of up-cycling skills of approximately 1000 students in 10 schools in Istanbul, Izmir, and Ankara through play. For more details about the Project, you can review the news in Marketing Turkey.
We Met New Play Friends!
Since the first day of our establishment, hundreds of people have supported our efforts to create alternatives to cherish children's creativity in the toy industry. Dozens of editors and journalists have helped us spread Toyi's messages. Here are some of the unforgettable reflections of 2021: Our founders Elif Atmaca and Ögeday Uçurum received the Rising Star Award of Mojo Nation which designates the rising stars in the play industry every year. The world-famous newspaper Independent included Toyi among the 'Best Kid's Toy Brands'. Core77, Treehugger, Dünya Gazetesi and EKOIQ carried our messages to different parts of the world. We were featured on the cover of the sustainable toys series of Toy World Magazine, one of the most well-known magazines in the toy industry. In the meantime, Toy News conveyed our messgaes for sustainable toys to the toy industry.
We Launched Our 'Everything is a Toy with Toyi' Campaign Video!
This year had another importance for us: we released our new campaign video that we shot with families from our community! The video that we prepared with the theme of transforming every place and everthing into a toy, brought out the creative powers of children. Our campaign video, which is translated in 5 different languages, invites children, parents and teachers to transform everything into a toy with Toyi kits. Feel free to visit our Youtube channel to take a look at our campaign video. Please share our excitement, watch the video, share it with your friends and send us your comments!
While we were filming the video, we also renewed all our distributor content with the photo shoots. Toyi is ready to meet playmates from different parts of the world with its updated content from produt listing to social media campaigns, from banner arrangements to display products. Feel free to contact us at hello@toyi.io to access our updated content distributor marketing document.
We Discovered New Ways to Support Sustainable Development Goals!
In 2021, we made our work more systematic in line with the Sustainable Development Goals in order to eradicate poverty, protect our planet and to ensure all people live in peace and prosperity. You can see below the indicators of our impact areas in the fields of Quality Education, Gender Equality, Reducing Inequalities, Responsible Consumption and Production, and Climate Action.
| | | |
| --- | --- | --- |
| Indicator | 2021 Value* | 2022 Goal |
| Number of children reached thorugh sales | 225.000 | 1.000.000 |
| Number of teachers participating in free events with free play-theme | 1200 | 1700 |
| Number of products that support free play produced by the company | 4 | 6 |
| Number of play advocates participating in communication activities to ensure gender equality in the field of play | 50 | 150 |
| Ratio of full-time female employees | %50 | %50 |
| Number of toys supporting gender equality | 4 | 6 |
| Number of individual donations made | 2000 | 2500 |
| Number of individuals participating in donation campaigns | 1200 | 1700 |
| Number of supported civil society organizations | 18 | 20 |
| Number of produced toys supporting green skills | 4 | 6 |
| Number of unique children that the company encourages upcycling through its products | 225.000 | 1.000.000 |
| Number of individual students and teachers supported by the company's green skills through its programs | 800 | 10.000 |
| Number of waste materials recycled through play | 1.125.000 | 2.125.000 |
| Amount of toys produced from recycled plastic (KG) | 6.000 | 30.000 |
| The amount of carbon emissions saved during production | 16.200 | 81.000 |
* Values indicate the reporting period between 2019-2021.
WHAT 2021 MADE US THINK ABOUT
COVID-19 has once again shown us that the global crises affect all of us deeply. Whether global crises are directly in the working areas of social enterprises or not, they require thinking with a systematic approach. Thus we believe that every organization that wants to contribute to the prevention of these crises should put forward a preventive and healing solid approach towards these areas. You will find below the transformations and future plans of Toyi that we made in 2021 regarding the global crisis areas.
While preparing this document, we tried to reveal the areas that we need to improve in a transparent and clear way. These areas were determined as a result of the face-to-face interviews with different stakeholder groups, surveys and our observations. Please do not hesitate to send us the areas that you think need improvement in Toyi via hello@toyi.io.
OUR APPROACH TOWARDS CLIMATE CRISIS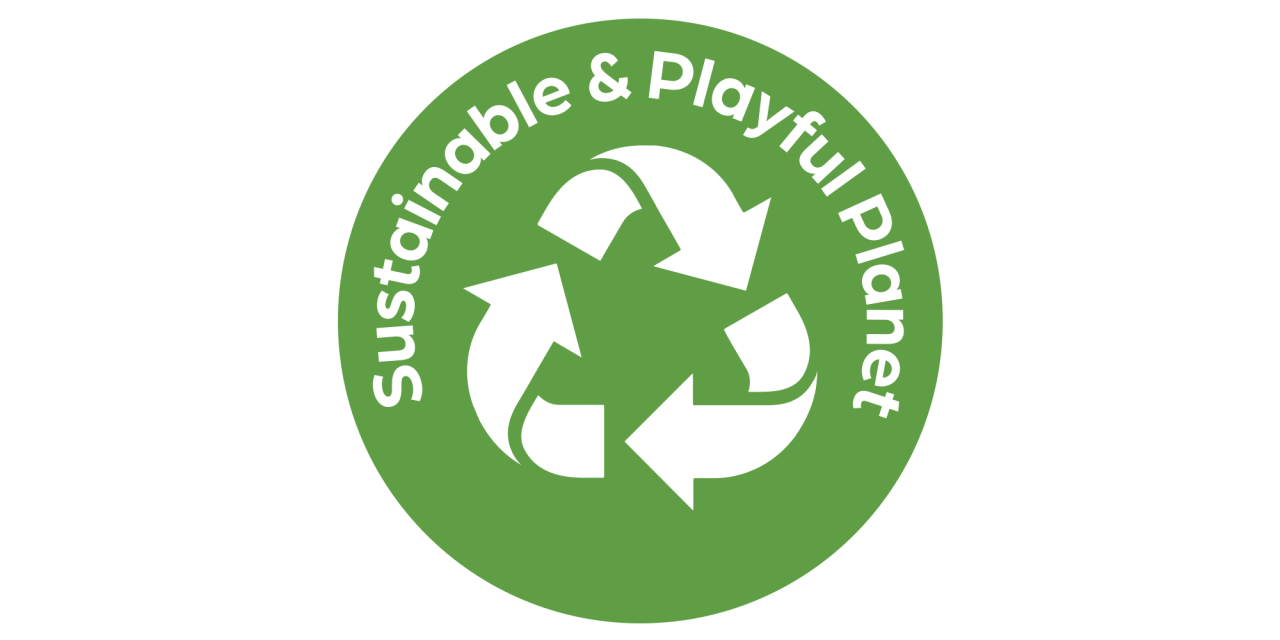 Toyi is a social enterprise that designs play experiences to make children's lives more sustainable and playful. We believe that the climate crisis, the effects of which will be felt heavily by future generations, is also a child rights crisis. Therefore, we consider sustainability as one of the main criteria in our decision-making processes at every stage of our play experience, from design to production, from packaging to shipping. You can find below our work in 2021 and future plans in the field of sustainability.
Launched in 2019, our R&D studies for sustainable material resulted in 2021 and we began to use recycled plastic in the production of Toyi parts. At the same time, we started using recycled paper in all Toyi boxes, brochures, display products and parcels. Thanks to the work we did in the production process, we prevented 16.200 kg CO2 emission through using 6 tons of recycled plastic.
Through the workshops, campaigns, sales and donations we organized in 2021, we encouraged a total number of 225,000 children to look differently at the materials around them and transform approximately 1,125,000 materials into toys.
We continue our work as we keep sustainability in the heart of all our thinking processes.
Sustainability in Design:
Sustainability is considered even in the designing stage in our decision-making processes. While all Toyi products provide children with up-cycling skills through play, we make sure to design all our products to be long-lasting, in a way to be passed down generation to generation. In this regard, we only use environmentally friendly and durable materials that meet our quality standards. We design the most efficient production models and processes to minimize energy consumption. With this intention, we keep the number of colors and box sizes to a minimum, reduce material densities, and use the minimum brochure sizes and page numbers. One of our favorite features of Toyi is that even its box can turn into a toy; in this way Toyi boxes do not go to waste after being opened, and can be used over and over again as part of a toy. We plan to continue our impact and dissemination efforts both in Turkey and globally in order to expand sustainability in design in the upcoming period.
Sustainability in Material:

Recycled Plastic:

We produce all parts of Toyi kits from recycled plastic, except for the flexible connectors. For a more sustainable material, we continue our R&D studies to find a solution to functioning, production speed and scaling problems in order to produce the flexible connectors from 100% recyclable thermoplastic elastomers. We plan to complete our R&D studies by the end of this year and produce all Toyi parts, including flexible connectors, with recycled plastic.
Eco-friendly Paint:

We do not use lead-based paints or other paints containing heavy metals. We use only safe, non-toxic paints on Toyi parts. We continue our search to switch to a water-based or plant-based alternative in the coming period.
Sustainability in Production:
Local Supply:

In order to minimize energy consumption and reduce our carbon footprint resulting from transportation, we use local supplies for all raw materials used for Toyi Kits.
Energy and Water Consumption:

We track all production processes in terms of energy and water consumption. We continue our R&D studies with our local partners for the transition to renewable energy sources in the 2022-2030 period.
Zero Waste

: We reuse all recycled plastic waste generated during Toyi production for toy production.
Sustainability in Packaging:
Recycled Paper:

All boxes, brochures and display products are produced with recycled paper. We use FSC certified papers in all the boxes we use for shipping Toyi products. In 2022, we continue our efforts to switch to a more sustainable alternative for the raw materials used in our box linings and shipping packages.
Water-Based and Biodegradable Paint in Printed Materials:

We use recyclable or compostable ink in all of our Toyi printed materials. We continue our R&D studies to switch to a water-based or biodegradable paint alternative, as it is more biodegradable and more recyclable than standard inks.
Eco-Friendly Stickers:

Toyi products do not contain harmful ingredients such as solvents or bleaching materials; We use water-based glue in our box and display products. We continue our R&D studies for bio-based adhesives to make them more sustainable.
Recycled Plastic Shipping Bags:

While delivering Toyi Kits to individual customers, we use only recycled paper packs. However, we started using plastic shipping bags due to the COVID-19 measures in the last years. As of January 2022, we plan to switch to recycled alternatives in shipping bags we use.
Water-Activated Packing Tapes:

Starting from 2022, we plan to use water-activated packing tapes in the packaging and shipping of Toyi products, as it prevents extra costs in the recycling process.
Materials for Damage Prevention:

We use cardboard in all additional materials (angle brackets, etc.) we use to prevent damages in the Toyi boxes.
Sustainability in Operation: We track the carbon footprint of all packaging processes of Toyi products, considering the storage, waste reduction and various other factors. We also track our logistics in order to minimize the environmental impact, and we always pick the closest ports for shipping. In our European shipments we choose the sea route over the highway, and in main roads we consider railroad alternatives. As of 2022, we plan to start studies that will reset our carbon footprint for air transportation that we occasionally use for some of the international shipments.


Circular Play and Design Program:

We designed Toyi kits to be long-lasting, passed down from generation to generation. In the meantime, we are providing kids with upcycling skills through play and encouraging them to produce new toys from waste materials as a second chance. Moreover, we think that some Toyi kits that are used in some households and schools have completed their bench lives, and they can be brought back into play through a circular economy approach. Therefore, we aim to develop a mechanism that will combine our circular economy approach with our impact projects in 2022.

Advocating Sustainability Culture
Upcycling through Play:

With Toyi, we want kids to make their own toys using their own creativity, rather than consuming pre-made toys. In this way, kids can rethink, redefine and reuse the everyday objects around them and can come up with countless new toys. We want to help kids to become adults with advanced upcycling skills by changing their perspectives on consumption at an early age with Toyi. Therefore, we plan to continue to launch new products that will support children's green skills and to expand our digital content about upcycling through play in 2022.
Sustainability Training through Play:

Even though it is difficult to predict the jobs of the future, the business world agrees that the economies of the future will need green skills. The United Nations Environment Program underlines the green skills in its GEO-6 for Youth guide. Moreover, studies show us that children who acquire green skills such as upcycling, waste sorting and culture of production without consumption at an early age are more successful in turning these into habits later in life. Thus, we will focus on our efforts for kids to acquire green skills at an early age in 2022. For more information about Toyi's green skills training, please visit our

newsletter

.
Sustainability in the Toy Sector:

We know that we cannot make the play sector sustainable by only transforming our own processes. That's why we have started our impact communication studies for a more sustainable toy industry both in Turkey and globally. We plan to organize events where we come together with representatives from the sector and create discussion platforms in 2022.
Sustainable Team Culture: In order to become a leading sustainable brand in the play sector, we care that all our team members are also sustainability leaders. For this reason, we keep a clear and open communication among team members and organize training to improve our team's knowledge and capacity.

Advisory Board on Sustainability: We need the supervision and companionship of a third party to improve ourselves in the field of the climate crisis. For this reason, we decided to establish an advisory board consisting of pioneers in the field of sustainability and children who are climate activists. In 2022, we plan to make adjustments based on the current developments and the guidance of this advisory board.
OUR APPROACH TO SOCIAL AND ECONOMIC INEQUALITIES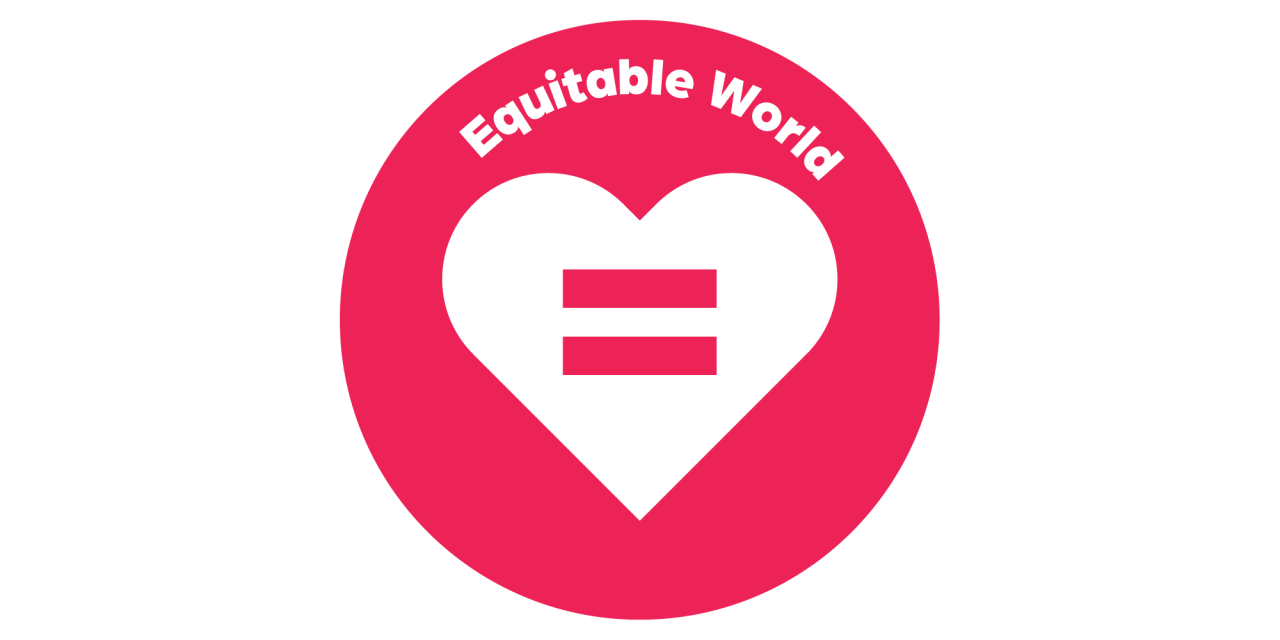 As Toyi, we believe that all living beings on this planet are interconnected. And we believe that only by nurturing these mutual bonds and caring for each other can we reach a world where we thrive. Thus, we focus on our efforts to reduce the social and economic inequalities that we observe especially in the area of child's rights.
Our Play Advocates Community Program that we started to support children's play rights in 2019, reached 750 Play Advocates as of 2021. We have delivered Toyi kits to 2,000 children in need with the "Buy 1, Donate 1" campaigns, which we implemented with the support of our play advocates and in cooperation with 18 NGOs since 2019. For detailed information about donations, you can visit our data flow page.
We want to continue our work by keeping the reduction of social and economic inequalities at the heart of our decision-making processes. We briefly summarized the work below that we will do in the short and long term.
Toyi Donations and Supporting Children's Right to Play in times of Crisis-Disasters:

We want to systematize our donation campaigns that we carry out since 2019. In this regard, we plan to come together with civil society organizations working in the area of children in Turkey, and come up with preventive works to keep children's right to play on the agenda in times of crisis and disasters.

Advocating of Gender Equality in the Field of Play:

One of the issues that we focus on in the field of reducing inequalities is the elimination of gender-based inequalities in the toy industry. Gender equality is the main criterion at every stage of Toyi's design processes, including colors to packaging. We will once again use the theme of gender equality in the toy industry as the main criteria in the new products that we will launch in 2022. In the upcoming period, we plan to continue our impact and dissemination efforts for gender-sensitive design, both in Turkey and globally.

We plan to expand our communication works and Virtual Toy March that we have been conducting since 2019, with the participation of play advocates, children, families, and women's movement activists in 2022. You can subscribe to our newsletter to follow our gender equality works in the field of play.
OUR APPROACH FOR PARTICIPATION
We think that play has liberating, empowering and healing aspects not only for children but also for adults. For this reason, we always bring up the advocacy for the right to play at every opportunity. We want to apply this liberating and participating approach of play to our business processes, as well.
Since 2019, we have been trying to design all our business processes in a transparent, accountable and dialogue-oriented way in order to create a more participatory and democratic environment at Toyi. We have come together with more than 1000 partners, supporters and play advocates so far, developed content together, collaborated, and ran campaigns. However, we feel the need to make these relationships more participatory in order to create deeper and more sincere bonds between Toyi and its stakeholders. Below, you can find the summary of activities we plan to increase participation in the short and long term.
Play Experts Advisory Board:

Play Experts Advisory Board will help Toyi in the supervision of all design, production and play processes in terms of children's rights. If you know a play expert who you think might be interested, please contact us via

hello@toyi.io

. (Children under the age of 13, will be contacted after the approval of their parents or guardians.)

Play Advocates Advisory Board:

Play Advocates Advisory Board will have a direct say in designing and implementing programs for children's right to play. If you are interested, please contact us via

hello@toyi.io.
Thematic Working Groups:

We are planning on establishing thematic working groups in order to strengthen and sustain our cooperation in different fields such as climate action, education, digital play, and plays in times of crisis-disasters. Feel free to contact us if you want to take part in these groups:

hello@toyi.io

Community-led Impact Campaigns: We want to develop our impact projects together with play advocates by giving more authority to the Play Advocates Community Program that we run since 2019. We aim to develop campaigns with the direct involvement of play advocates in all processes from designing to implementing.
OUR APPROACH ON DIGITAL PLAY
As Toyi, although we have produced only tangible products so far, we believe in the importance of digital play in the development of children. In fact, unlike many traditional play advocates, we see digital play as part of children's right to play. Looking at the digital play world, we encountered some problematic areas for which we decided to take action. In 2022, we plan to launch pilot studies on digital play content that will expand opportunities for free play, democratize plays and toys, expand their access and support children's participation and empowerment through play.
You can sign up for our newsletter to get up-to-date information about all the processes of Toyi or fill out the form to join the play advocates. We hope to reach a more playful, sustainable and fair toy industry together.