We were in Nürenberg to meet our old business partners and extend the influence of Toyi to new countries between 29 January – 2 February. February started off great for Toyi as we spent an amazing week at Spielwarenmesse and became friends with extraordinary people. We send our thanks to our customers and partners who visited us at our booth, and to the Spielwarenmesse team who made us feel at home. Now we're getting ready for a productive 2020 with our business partners.
We were selected for "Toys for Future"
We have other exciting news this year. Spielwarenmesse creates categories related to the trends in the toy world and displays its prominent toys in the "Trend Gallery". The "Toys for Future" category, which is one of the themes of this year, brings together toy companies that are able to raise awareness about sustainability and the environment through play. We have been selected for the "Toys for Future" category of this year.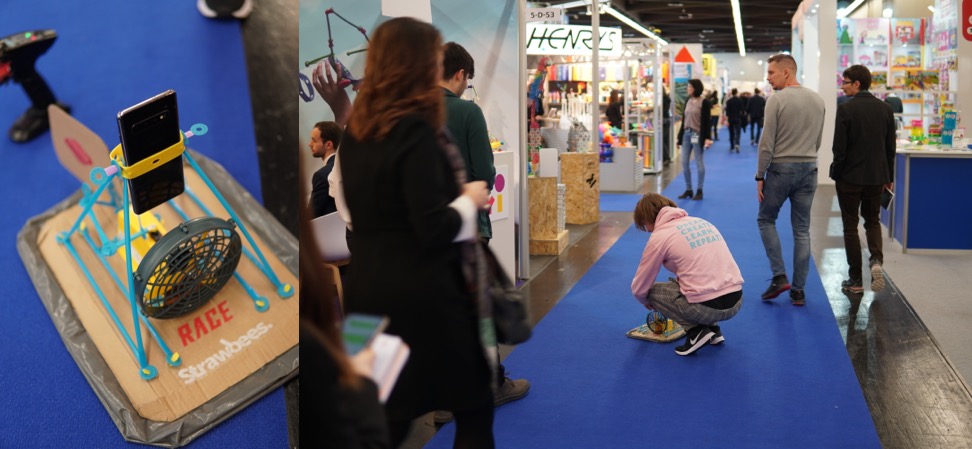 Pop-up collab with Strawbees
We cooperated with Hovercraft, the latest design of the Swedish toy company Strawbees. We combined Toyi's flexible connector with Hovercraft's movement, and we designed a toy with a camera with Strawbees Founder Erik Thorstensson.
We examined our new bioplastic product line with Dad Lab!
Dad Lab, who gained worldwide fame with his educational Instagram account, visited our stand at Spielwarenmesse. We talked about the perception of toys among parents, also Sergei gave feedback for the new bioplastic product series that will be released in the coming period. We also received a passing grade from Dad Lab, wait for us!