We are super excited to announce that our eco-friendly creative building kit Toyi won the iF DESIGN AWARD 2021 in the discipline "Product". Toyi was first conceived by our co-founder Elif Atmaca as a solution to allow kids who live in disadvantaged areas to transform their surroundings through play, and it had won the iF DESIGN Student Award in 2015. With Elif's passion for sustainability and design for child's rights, Toyi was then developed for all children whose creativity is malnourished in our times and has been awarded with the iF DESIGN AWARD 2021.
A New Definition of Toy
Toyi introduces a new conception of toy by inviting children to explore their surroundings in a creative way and see everyday objects as potential parts for their new toys. With a kit consisting of wheels, feet, eyes, joints, sticks, flexible connectors and junction parts, kids aged 6+ can transform any object around them into a toy of their own creation. The small Toyi box is a gate to a vast array of potential toys of different materials, textures, colours, shapes, and sizes, not limited by the size and the content of the box. Thanks to Toyi, a water bottle can be transformed into a six armed robot, old boxes can become train compartments or a pine cone can come to life as a cute monster.
Eco-friendly toys for eco-friendly families
Caring for our children means more than making them happy with toys – it includes sharing the responsibility for the future of our planet. Sustainability is becoming indispensable in the toy industry as awareness grows about the global climate crisis and about what companies and individuals can do about it with their choices. Unlike many other toy companies that only adopt sustainability in the materials they use, Toyi incorporates it as a mindset. Toyi is sustainable in every sense: not only does it use 100% recycled plastic and paper, it also allows children to upcycle disposable objects as key parts of their toys, and it has a long lifetime thanks to its potential for limitless transformations. Toyi shifts children's perspectives on consumption and production from an early age which will have a great impact on the years to come.
Creativity Free from Prescriptions
Toyi nurtures children's creativity not just by allowing them to see everyday objects in a different light, but also by encouraging them to freely express themselves in endless unique ways since it doesn't rely on step-by- step instructions. The play and toy industry is shaped by grown-ups whose creativity is limited compared to children. Play rules are set by grown-ups; they tell children how to play and what toys to make. Even with toys composed of construction blocks, the end product is shown to children beforehand. Toyi is giving priority to children's needs, and supports free play. With the open-ended play experience Toyi provides, children can make a limitless number of toys using their creativity. Toyi reminds parents, teachers, and all grown-ups that child-led play is a great way for children to develop lifelong skills.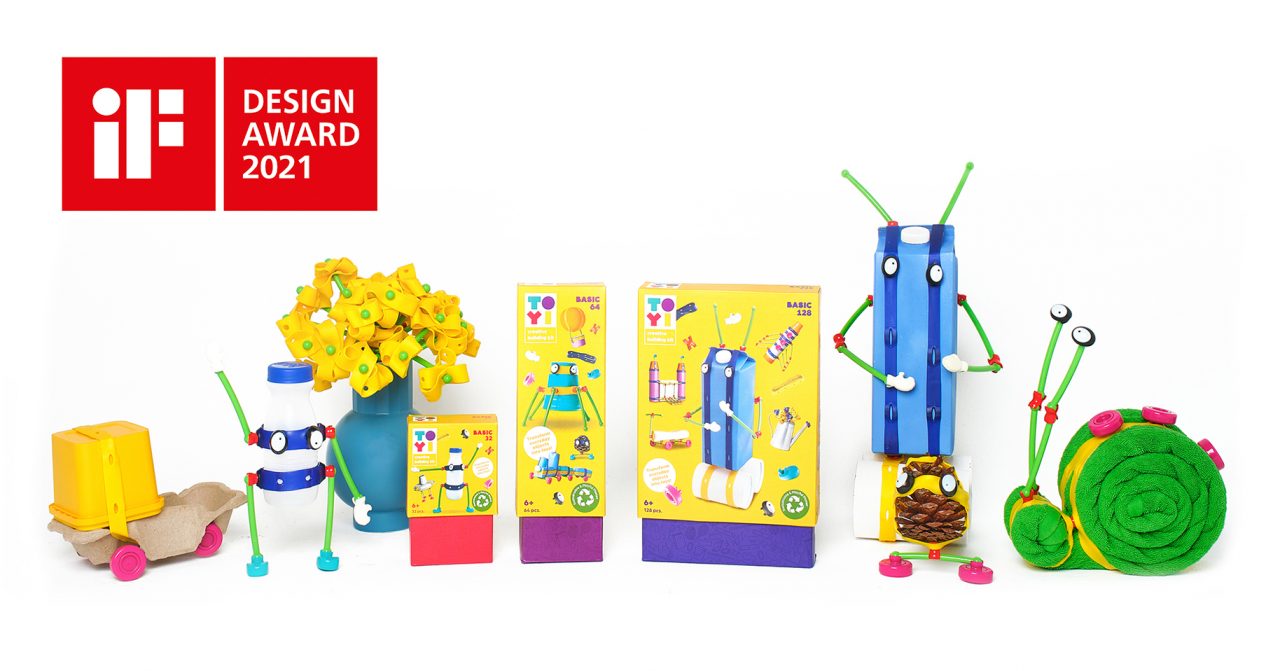 See our product page here: iF DESIGN AWARD 2021